Textured Coating Removal
TCR Cleaning most paint finishes from Brick and Stone.
If you have arrived at this website searching for help with the removal of textured coating or other spray applied wall coatings then you probably own a property that has been treated at some time with a smooth or textured external wall coating, which may have been trowel or spray applied. You may be wondering whether it is possible to remove this plastic like coating. This type of so-called exterior high-performance wall coating can be notoriously difficult or sometimes impossible to remove.
TCR can make the removal of paints and textured spray coatings possible. Unlike grit blasting which is often useless against rubberised textured coatings (and can also damage the brick or stonework). TCR use hot water jetting and chemicals leaving the wall surface intact and therefore restorable. If the walls of your house have been smothered with that horrible porridge-like plastic spray wall coating we can help. TCR can assist you with the removal of most textured exterior wall coatings, AKA plastic coating, enamel coating, resin, pliolite textured coating. Our exterior wall coating & cleaning service will allow the walls of your home to breathe once again. We don't just remove paint finishes from walls, TCR can specify and install many different paints and render finishes, including traditional lime, renders and silicate paints that are hand-picked for your particular home from a range of specialist manufacturers
There are many different types of exterior wall coating and each one responds differently to the various chemicals and methods of removal. Over the years we have developed the expertise in the careful removal of them, whilst preserving the brick or stone surface buried underneath.
For brickwork beyond restoration, we can specify and install real BRICK CLADDING brick slips, cut down from real bricks of your choice, we are able to return your house to its former glory
Why do some homeowners have this type of exterior wall coatings?
What damage can these plastic-like coatings do to my walls and home?
Oil Based Textured Wall Coating
Chemical Separation of Most Paints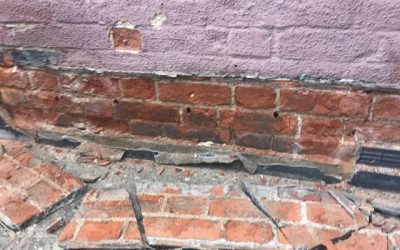 A Brick Cladding Solution to damaging Textured Coating Here we remove textured spray paint from the soft brickwork of this late Victorian house in the Maidenhead area. Once we removed the wall spray coating the only solution to cure the damp and spalling...
read more