Exterior wall paint finishes some last and some don't
When it comes to the success and longevity of any decorating job we all know that preparation is very important, painting the outside of a house is no exception to this rule.
Also important is the exterior wall paint that has been chosen for the job. A lot of wall coating firms have just a few products, usually oil-based. Exterior wall paint is usually applied with a roller or airless spray. The thicker textured wall coatings are usually troweled on or hopper gun spray applied. The viscosity of a textured wall coating that most firms apply has to be very thick for them to be applied by a plasterers float. They can be up to twenty times thicker than normal exterior wall paints, which on the face of it sounds like a good thing. But even with the correct surface preparatory work, these thick impervious coatings can and do cause major problems.

TCR have worked a generation in the wall restoration industry. Over the years we have seen a plethora of different coatings intended and promoted as an answer to alleviate damp problems or to rejuvenate tired-looking houses. Often sold as long life exterior wall coatings that can cure all manner of damp problems many of the exterior wall coating systems never mature to the end of their ridiculous twenty-five-year + guarantees. Poor quality installed exterior wall paint jobs barely last one season, never mind four! Many wall coating companies have been and gone leaving a legacy of deteriorating properties and some very unhappy homeowners.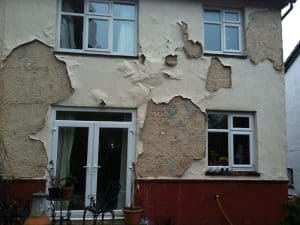 We are able to remove all types of coating and are specialists in chemical and mechanical separation. We have a full complement of craftsmen in both stone and brickwork covering all aspects of the trade,  restoring brick and stonework. Our work comes with a comprehensive and realistic guarantee.
In addition to domestic properties, we also undertake commercial and industrial contracts.
Our main areas of expertise are the removal of exterior walls finishes such as Graffiti. High build paints. Textured or smooth exterior wall coating, spray or trowel applied. Masonry Paints. Stone Cladding or pebbledash and cement render. TCR don't just clean and remove failed coatings and wall paint finishes, we can also specify and install high-performance coatings and traditional lime render wall finishes that will work with your particular wall type. All render and coating products are specified on a bespoke basis, using products from many specialist manufacturers.